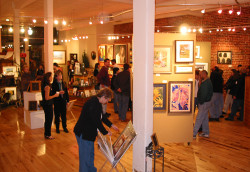 Each month we have a number of art shows and events in our gallery.  Here is a list of the latest happenings:
Huge Designer Gallery Clearance Sale – Just in time for the holidays! We are running a clearance sale of our Designer Gallery.  Every Designer Gallery print, poster, reproduction and framed art is 70% OFF!  If you're looking for new art for your home, office or man cave, we dare you to find a lower price anywhere.  Most prints are under $10.  Hurry in for best selection!!
CURRENT SHOW IN THE MAIN GALLERY:
Holiday Art Show and Bazaar – Our final show of 2022 features the artwork of 15 local artists including: Pam Bolesta, Susan Bonsall, Kat Bradley-Bennett, Steven Charter, Chris Kanowitz, Diane Koch, Valerie Meyers, J.L. Moulton, Aine Sandford, Connie Schlepp Weiskopf, Elizabeth Shoeman, Ellen Sklar, Lana Tyler, Lane Ude and Vandy Vandervort.  Great artwork from local artists just in time for the holidays.  Join us on Friday, November 11 (5:00-8:00 pm), for the Opening Night Reception of this show. Show will be on display in the main gallery November 11 through December 30.
UPCOMING SHOWS IN THE MAIN GALLERY: