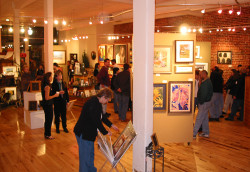 Each month we have a number of art shows and events in our gallery.  Due to COVID-19 requirements, we have suspended our 2nd Friday Artists' Receptions until further notice, but you can still stroll though the gallery, during our normal business hours, and check out the current show.  Here is a list of the latest happenings:

Walnut Wonders Woodworking Exhibit
Our November/December art show features Boulder County Parks & Open Space's Walnut Wonders, an exhibit of woodworking creations such as functional art, turned bowls and vases, furniture, musical instruments, wood sculptures, and folk art from Nov. 14 through Dec. 30.  The tree used for the creations, estimated to be 140 years old, succumbed to the thousand cankers disease and was cut down in 2018. It lives on through the creativity and talent of a diverse group of 84 woodworkers.
Gallery Hours: For current gallery days and hours of operation, please click here.
Online Exhibit: Items can also be viewed and purchased online at WalnutWonders.com beginning November 14.